About
Signatur Handknits are the designs of Sydney based Jane Slicer-Smith, Author of Swing Swagger Drape (home of the fabulous Harlequin Swagger). Handknitting Australian Wool, Jane's designs are available as knitting kits, patterns and finished garments.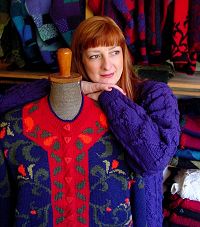 For the love of art, craft and hand creation, Jane Slicer-Smith has been designing her own unique fashion and picture hand- knitted garments since 1985.
"I am always asked what inspires me and where I get my ideas from. The answer is everywhere: nature, architecture, art and history. My greatest influence is the colour in life, be it textiles or nature. It's everywhere, and its influence should touch everyone every day."